Firenze Gelato Festival, Piazza Santa Maria Novella, May 23 - May 27 www.firenzegelatofestival.it
What is Gelato? How is it different than ice cream? Most importantly, why is it so much better? It wasn't until I lived in Italy and witnessed how integrated gelato is with the heart of Italian culture did questions like this consume me. Last weekend I attended the 3rd annual Gelato Festival in Florence, Italy, a five day (May 23-27) event dedicated to exploring the art of hand made gelato, in search of answers.
The word "gelato"n Italian does not translate to mean "ice cream" but "frozen". "It is more than just ice cream," James Coleridge, owner of 'Bella Gelateria' in Vancouver, Canada and winner of the 2012 Gelato Festival told me, "it's a culinary art."
He was happy to elaborate when I asked him the difference between ice cream and gelato. "Ice cream has four times the fat of gelato (28% compared to 7%), is made with more air (60% air and 40% liquid), and, finally, ice cream is cold and hard whereas gelato is warm and soft."
What he neglected to say, perhaps because it's obvious, is the difference in taste. The reason, James told me, is "gelato uses only fresh hand made ingredients, where as ice cream is mass produced. Gelato is about giving people "experiences and memories. If its rainy I do chocolate, cremes. If it's sunny I do fruit."
"The common mentality today is faster, quicker, cheaper. Italian gelato is about finding our love. It slows us down." Even more telling was the differences in the cultural approach to quality. A curiosity arose: does real gelato exist outside of Italy? James has proven it does. "In this country it's part of the culture because they're born with it. The rest of the us are still learning about it.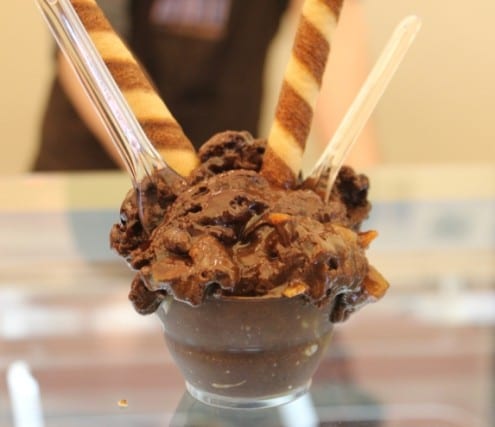 "Gelato is Italy," Achille Sassoli, Carpigiani's Event Manager said. Simple, but true. For most Italians anything less than pealing fresh peaches in the morning and grinding them to make a sorbetto is considered blasphemy.
When I explained to the gelato makers the differences between their hand made artistry and our mass produced mediocrity, they were disgusted. "It sounds terrible," Vincenzo Pace, a gelato maker from Il Pinguino, Turin told me.
Although there is much debate about the discovery of gelato, common belief credits Bernardo Buontalenti, a versatile 16th century artist who worked closely with the royal Medici family. In 1559 he concocted a frozen cream made with milk, honey, egg yolk, wine, lemon and orange. Nearly five hundred years later, his creation has evolved to gelato, as integral to Italian way of life as wine, coffee and olive oil.
In Piazza Santa Maria Novella, the hot Florentine sun didn't stop me from tasting every stand, each with their own flavor. Some were conventional: Nocciola (Hazelnut), Pistacchio, Stracciatella. Others experimental: 'Lemon Caviar', a white peach base with mint and ginger and a citrus glaze, 'Oro Verde', olive oil ice cream seasoned with pepper, poppy seeds, and salt, 'Saffron', and perhaps the most peculiar, 'Pane e Cioccolato', a bread base with cherry and chocolate. If you don't mind waiting in line, there is a bar that features 'gelato cocktails', a blended drink made with ice cream and alcohol.
In addition to trying eclectic flavors, a 15 euro ticket gets you a complimentary hour long instructional course provided by Caprigiani's University of Gelato. When I arrived to the festival at noon, class had just begun. I took a seat and listened to Gianpaolo Valli, who taught both the owners of 'Grom' and James Coldridge. When I asked him what it was like to teach two equally successful, yet different businesses he said, "I teach people the basics, it's like learning how to write. Once you know the grammar and rules, each person has to develop their own writing style."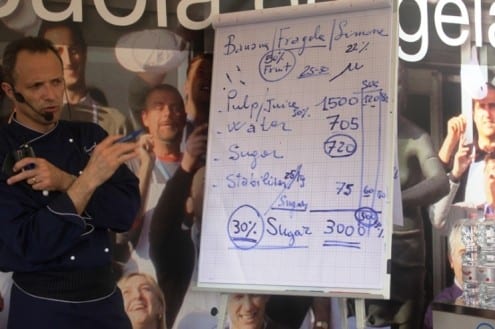 In class, Giampaolo gave an overview of gelato, from the history to the process of making gelato to opening a gelateria. (For more eager disciples, the Gelato University offers courses and internships around the world where graduates will receive a diploma).
At the end, he asked for volunteers. I was selected. Giampaolo oversaw four of us while we hand cut fresh banana, kiwi, strawberry and lemon to make a fruit sorbetto, the most basic gelato made by mixing fresh fruit, water and a simple base into the machine, pulling the lever and letting it freeze for five minutes. When we were finished, we got to eat our creation.
With Giampaolo as my guide it was hard to make a mistake. Mine, the lemon flavor, was tart and refreshing, like a frozen lemonade from an amusement park.
Behind every stand, the students of Saffi, a high school dedicated to the industry of hospitality, serve gelato to eager eaters learning about public relationships. Saffi, one of the few schools in Italy that guarantees the students a job after graduation, is going to open a special class about "the art of gelato making" sponsored by the Carpigiani University of Gelato in Bologna, which provided machines, ingredients and knowledge to the Festival. "Our goal for next year is to have the students from Saffi create their own flavor to enter in the contest", proudly stated Achille Sassoli. "In addition two lucky students will be sent to the University to receive their diploma."
What I like about the festival is experimenting with new flavors, so I always go for whatever is the most creative. Unfortunately when I tried Oro Verde, the olive oil doused with seasoning, I coughed, mistaking pepper and salt toppings to be bits of chocolate. Its creator laughed at me: "pepe" means "pepper'!
Among the many flavors I tried that day, several stood above the rest. The most refreshing was the Lemon Caviar from Vivoli, one of the most famous gelaterias in Florence who has been making ice cream for nearly 80 years. In the gelateria, you can still find sisters Silvana and Patrizia hand making gelato, and their mother working the counter.
The other, a chocolate sorbetto from Il Pinguino, Turin, made of 100% cacao and water, tasted like cold chocolate drink and was both light and satisfying. I had two cups.
The 'Pane e Cioccolato' was made by Roberto Benedetti from Altopascio, a city known for their bread. The recipe was inspired by his childhood memories, when he used to eat bread dipped in fresh milk, with chocolate. He won the well deserved prize for the "Best Apprentice Gelato Maker". His gelato was thick and grainy, like a frozen paste. Perhaps the only fault, if you can call it one, was that the chocolate pieces were too big.
'Noce Pecan e Sciroppo d'Acero Canadese', a walnut, pecan gelato with maple syrup, made by James Coleridge was the last flavor I tried. "It has four distinct flavors," he told me, "designed (as it melts) to hit different parts of your mouth through salt, sweet and nut, and maple syrup as you breathe." It did all that, and more. With large chunks of salty nut in every bite and a dazzling glaze of syrup, my only regret was that I didn't have a second cup. After I was done, I felt confident in giving him my vote.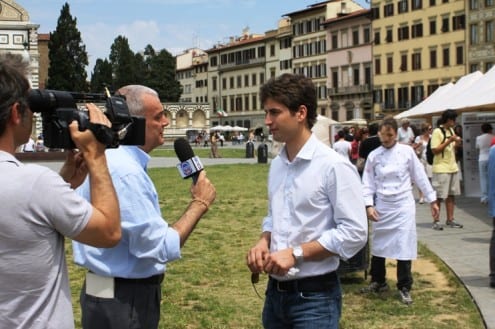 Much has changed abut the gelato festival. Because of it's expansion, it has relocated to Piazza Santa Maria Novella in the heart of the city center. In the previous years, it was held in Piazza Pitti, the famous square which Buontalenti constructed.
"We had over 200 applicants this year, and we chose the best 60", said the 28 year old Gabriele Poli, who founded the festival three years ago. "My goal is to spread the word about gelato and create new jobs in Italy and abroad." His plans for the future are equally ambitious. "Next year we hope to have a Gelato Festival Tour with stops in every major city in the world, featuring the best of their local gelato."
"The food industry is the only one that emerged in the time of crisis", explained Achille Sassoli, specifying that it's "the one who will lead Italy out of their current recession". And the winner of this edition seems to exemplify that ideology: "to me winning means that I'm doing something right," he told me. "When it comes down to it, I'm just a custodian who protects the world of hand made gelato. There's been people before me. There will be people after me. This is just my time."
Read our article on Honest Cooking!