Gelarmony, Via Marcantonio Colonna, 34, 00192 Rome - Italy
The first thing I notice when I enter Gelarmony, are customers admiring the display case. Their gelato looks absolutely exquisite, each flavor a whirlpool of colors and decoration. "This is the hardest decision I've had to make all day," a German tourist tells her boyfriend. Roberto Ricci, co owner and gelato maker, is not surprised by their response.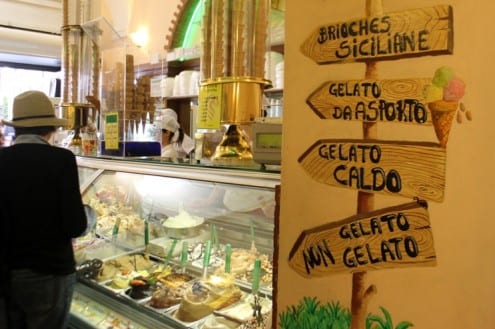 "The way I spot the foreigners is their reaction, because they have never seen a gelato presented like this," he tells me. Pointing to the camera dangling from my neck, he jokes: "and they take a lot of pictures."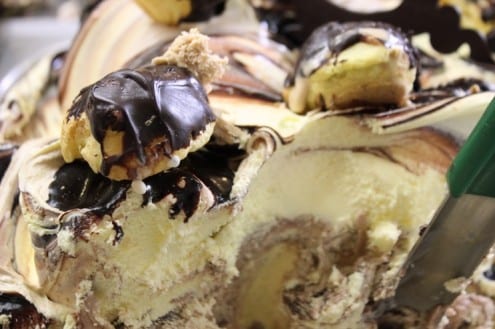 Gelato is… a creation of precise proportions," Roberto says. "Making it is a science because you have to be extremely accurate with each dose of ingredients. To have a perfect gelato, one has to be able to pick out each flavor and know what is lacking." For the Ricci's one can say this ability runs in the family, who have owned a gelateria in Sicily for years.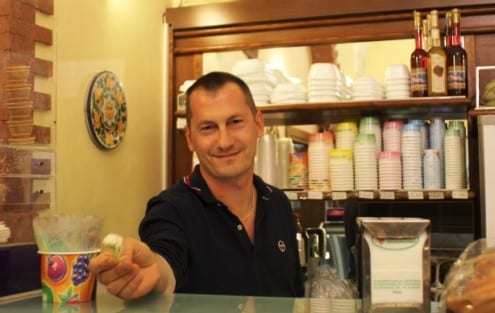 Even though Gelarmony is committed to maintaining a Sicilian style, Roberto is always inventing a new flavor. "When I'm savoring something delicious – eating fruit, a cake or pastry – I write it down and try to make a gelato out of it," he says. "Our family has been doing that forever." After mastering the family craft, fifteen years ago Roberto and his brother moved to Rome and opened Gelarmony.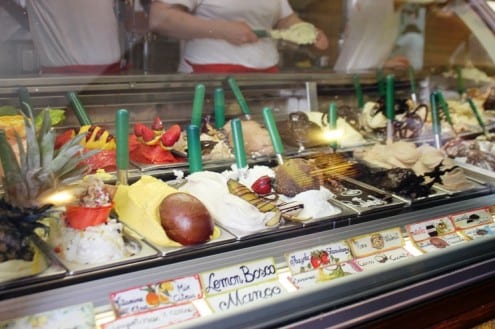 Roberto can typically be found in three places: selling, serving or making gelato. On a break he is proud to show me his store. The middle of the day is always the most crowded time at Gelarmony, because the locals come for lunch. Their typical selection is either a brioche or fruit salad with a scoop of gelato. "This can be a great substitute for a meal, especially if it's made with high quality products," Roberto tells me. "It's easier to digest, affordable and not heavy on your stomach." (A plain cream gelato has 200 calories per 100 grams; the size of a small cup, and a typical Sorbetto has half that).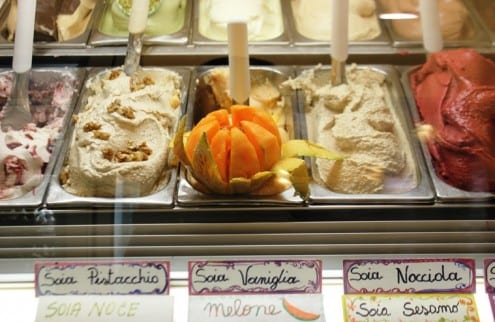 The back of the gelateria holds a second display case dedicated entirely to soy gelato.
"In a normal store, maybe one out of 30 flavors is made with soy milk, and usually, it's the one that looks the least appealing," Ricci notes.
"I wanted something different, to give those with an intolerance to milk a good product." A scoop of soy has only half the calories of a milk gelato, but is the quality comparable? To find out, I sample 'Noce Soia', (walnut soy).
It resembles a sorbetto, only lighter, and is packed with nuts in every bite. Incredible. Ricci is as pleased with my expression as I am with his gelato.
"I'm glad you like it," he says with a smile, "but to savor a masterpiece, you have to try the real thing."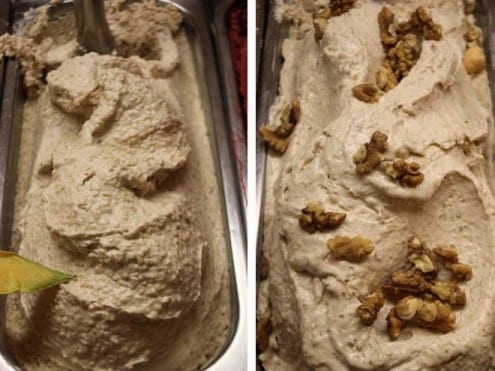 As the saying goes, "when in Rome, do as the Romans do." Instead of eating lunch, I order a cone with three scoops. My first choice is 'Noce'. Bits of walnut fill in every mouthful; a masterpiece indeed. The Cioccolato di Modica, (named after a city in Sicily) is variegated with melted chocolate and is sinfully good, and Mandorla e Pinoli is a delicate fior di latte base mixed with almonds and pine nuts. All are excellent.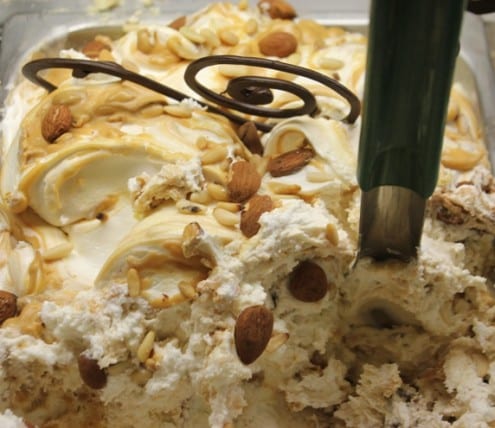 After lunch, I want dessert. Three new flavors. Abbracciami, made from the popular Italian cookie 'Abbracci', literally means 'embrace me.' The result is just that; an embracement of cream and chocolate.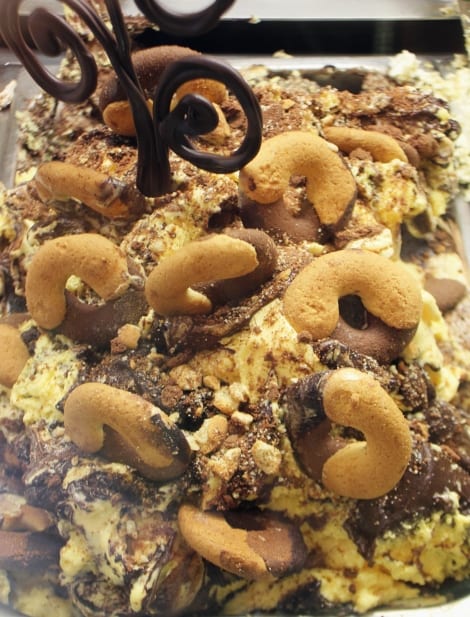 To maintain its Sicilian authenticity the "Cannoli' is not made with cream, but ricotta, powdered sugar, chocolate bits and cannoli crumbs. Delicious. The Bianco Branca, white chocolate with pistachios and pistachio creme is thick, simply extraordinary, and one of the best flavors I have ever tried.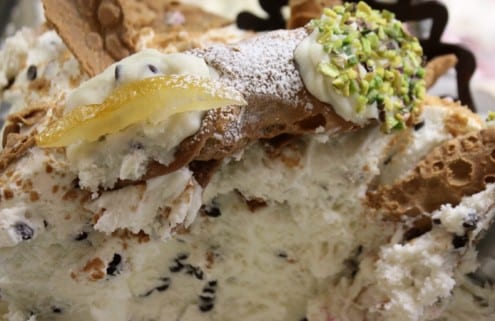 An Italian meal always ends with espresso. The Caffé Granita (one of their ten flavors) is a variation of gelato made by freezing the ingredients and then shaving them to eat the ice. There is no use of dried coffee or powder;  Roberto just let the coffee slowly drip to produce a more condensed, rich, creamy espresso. And in every granita, he doesn't use one shot, but five. Amazing!
When I ask Ricci about it his generous use of high quality ingredients, he reminds me: "One can never forget, a good gelato is not judged by quantity, but quality."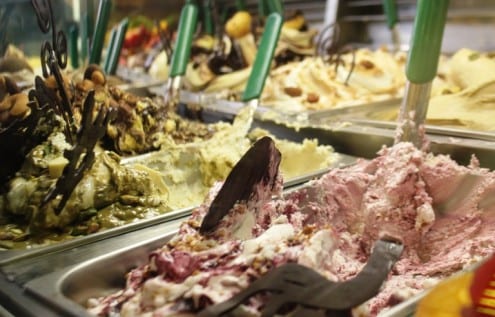 One sees the results of this philosophy everywhere. It doesn't just mean serving an unbelievable gelato, but also staying fresh with the seasons. Last harvest for example, one could have tried vino novello, 'new wine', but as soon as the grapes are gone so is the flavor. "If we can't find it in the market, we don't make the gelato."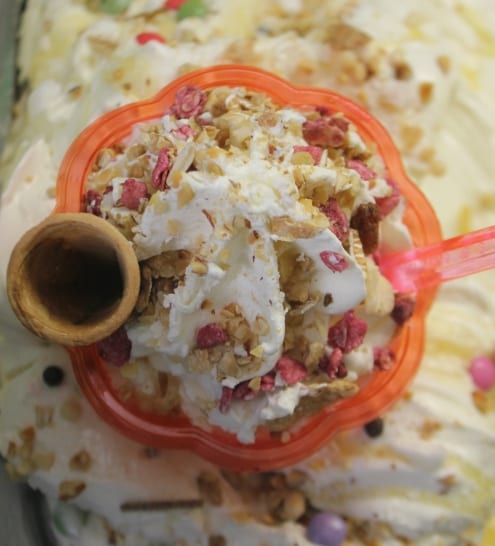 As Roberto says, like wine, gelato has a proper way of tasting. "You shouldn't try the almond after the walnut," he directs me on my tasting experience, "because the walnut covers the flavor of the other weaker nut, like a strong red wine drowns out a white." And when, after sampling a spoon of tart, refreshing mango, I point to the Banana, he shakes his head disapprovingly. "You shouldn't try that now; the mango flavor is too strong."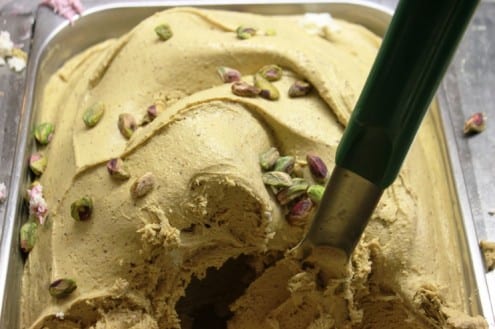 "Being able to appreciate and understand an high quality gelato is a gift," Roberto admits. "It makes one respect the product more because you can actually appreciate how it's done." With Ricci's advice, I am really tasting gelato like a sommelier tastes, distinguishes and understands wine.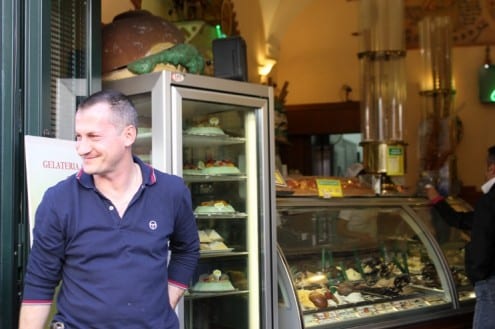 It's time to go. After I lament, I thank Roberto for the wonderful experience, but mere words don't seem adequate. Probably, not an entire thesaurus of adjectives is worthy of his 'noce' gelato.