Il Propcopio, Via Pietrapiana 60r, 50121, Florence - Italy
Usually, when a gelato parlor is excellent, I try not to go back. Sometimes a unique tasting experience derives from a combination of factors: the flavor, the enthusiasm for the new and the excitement of trying out your latest discovery.
The essence of a savor is such a flimsy and insubstantial memory that I want to shield it from further reconsiderations.
It's rare that the second time you try an amazing gelato it tastes as good as the first one. But at 'Il Procopio', where I came back in Florence a year after its victory at the 'Gelato Festival 2011', reality crushes memory.
Gianpaolo Palmerio, who runs 'Il Procopio' together with his wife Barbara and his father in law Piero, gives me a warm welcome: "Have a seat and take a couple of cups. I am delivering some gelato cakes to a restaurant and I'll be right back".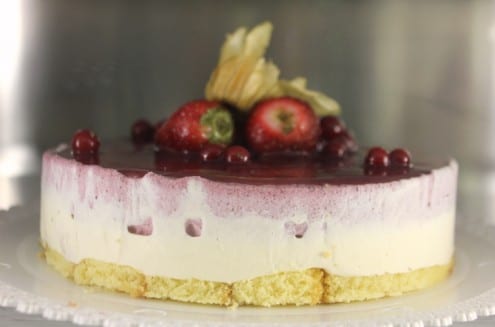 The little time spent savoring his 'Limone e Basilico' and 'Crema Catalana' is enough to amend my belief. I used to think it was incredible. I realize it is actually mind-blowing.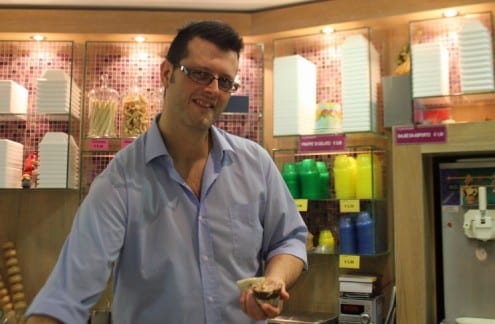 In the first spoonful of the Lemon and Basil sorbet, one can taste the whole Mediterranean. When the citrus zest disappears in your mouth, the basil's aroma tingles your nose with an earthy, fresh bouquet.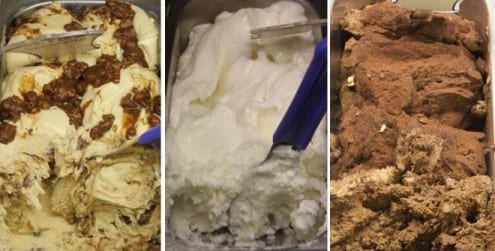 When I am about to try the 'Crema catalana', Gianpaolo is back. The sensation of pleasure given by the crunchy rocks of chocolate dissolving on my tongue is hard to restrain. "Can you taste the orange hint hidden in the cream?" he inquires. "Totally – I say – and the waves of burnt caramel that variegate it make this flavor an example of perfection".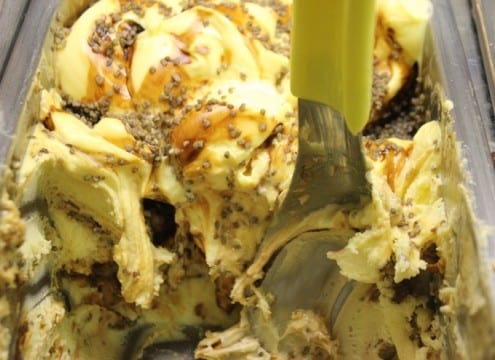 "It's hard that a gelato flavor can be better than the actual dessert it attempts to represent. But this succeeded indeed", I compliment. "I used to think the same – Giampaolo replies -. When I first met my wife, she'd state that her dad made a Sacher Torte gelato even more delicious than the real Viennese cake. I bet it was impossible and went to their gelateria to prove I was right. It was my first time meeting her dad… The gelato was awesome and nowadays Piero still hasn't forgotten my lack of faith in his art".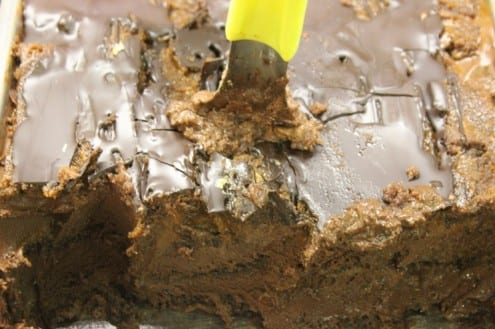 Once I try the Sacher, I understand Piero's resentment. Frozen layers of chocolate cream intercalated with sheets of cocoa 'Pan di Spagna' (sponge cake) and enriched by a sweet apricot marmalade. And, as it wasn't enough, a thick dark chocolate crust. It's not just good. It's life-changing. Especially for Gianpaolo, who, back in the day, after trying this flavor, gave a total twist to his life.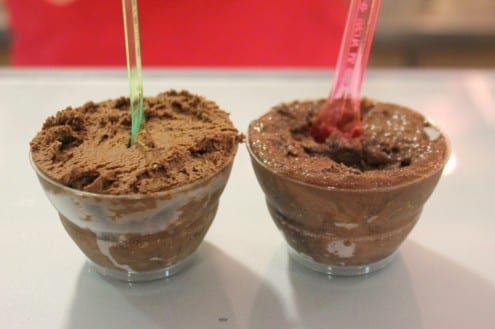 "Seven years ago, I was going to open my own arcade, but when I realized that I had the possibility to work with Barbara full time, I immediately took the gelato path. Piero was going to move his gelateria, 'Il Tucano', from Fiesole to Florence and I took part in this venture. All I know about gelato I learned it here, in the lab, from the experience".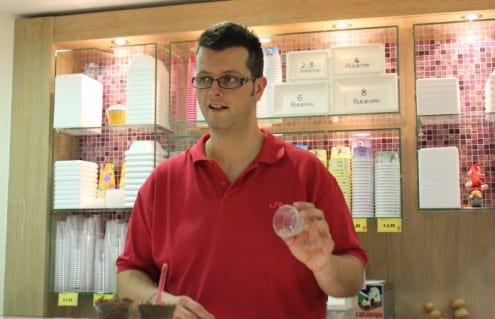 Seven years (and two kids) later, the passion for the gelato (and Barbara) is still blazing. "Gelato is a great satisfaction", he answers when I ask him to define it. "It reflects the harmony between my wife and I. When we work together, we're like a perfect gear that moves in sync".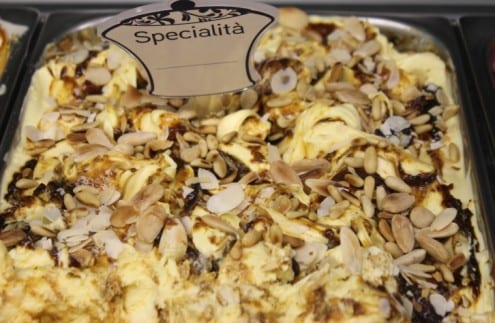 The way Gianpaolo perceives gelato is like a well balanced melody of little accents.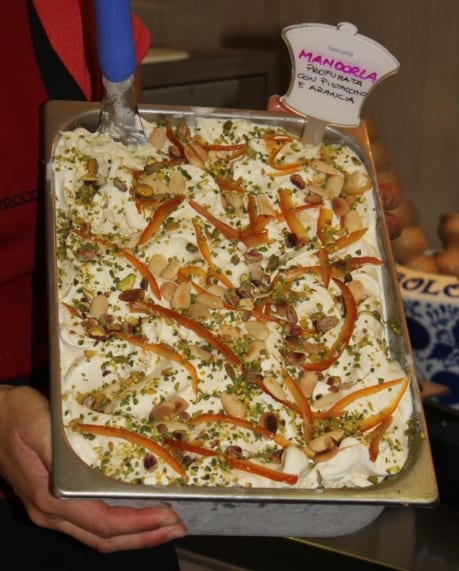 For each flavor I try, he directs my attention to capture hidden accents of flavor:
"Can you taste the milk cream in the Jamaican Dream – a chocolate-coffee mousse that tastes like heaven?"
"Do you feel the intensity of this pistachio pesto?"
"And what about the aftertaste of eggnog in the 'Pompadour'?" – an indulgence of hazelnut and almond pralines -, he continues.
I savor slowly and capture every detail, from their 'Follia' (that means 'Madness'), a delicacy of custard, caramelized figs, toasted almonds and pine nuts, to 'Mandorla', an almond cream enhanced by drops of pistachio spread and candied oranges.
Even though its display showcases 22 flavors, 'Il Procopio' rotates about 200 different recipes, each one presented in accordance with the time of the year and fruit ripening calendar.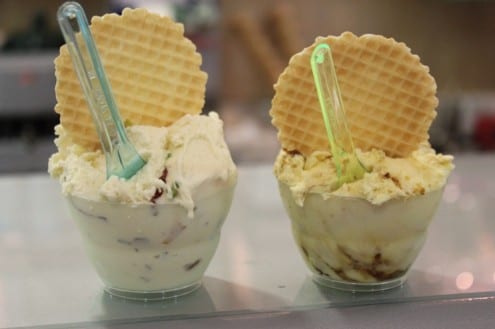 Gianpaolo is exciting about his creations and he makes sure I fully appreciate them. All of them. "You have to try my nut flavors, he says handing me a cup of 'Nocciola' and 'Cioccolato e nocciola'. "Start from the most delicate; drink some water in between and leave the strongest one for last", he suggests. I follow the instructions and indulge in this nutty paradise. The flavor's intense, full, real.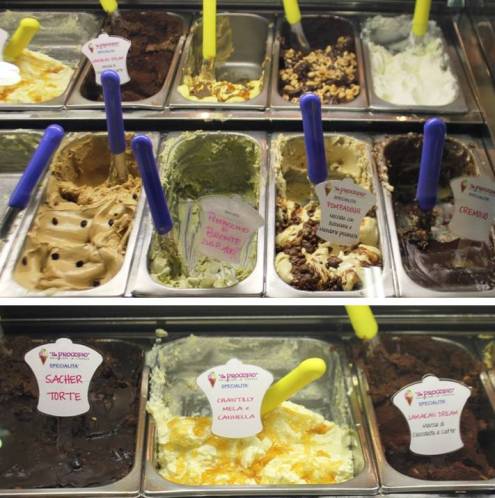 "It is a giant satisfaction for me to see that people like our gelato! We work 12 hours a day to have this result, but it's worth it", he says, expressing all his passion for this artisanal product.
During the summer, each day more than a thousand people stop at 'Il Procopio', that, after winning the Gleato Festival 2011, earned an additional 100 regular customers.
The people that run it though, didn't let this success go to their head. "We live day by day – Gianpaolo says -, first of all we're a family.
We don't have goals of grandeur; we don't aim to open stores in every city. Our main objective is to make the people that try our gelato come back".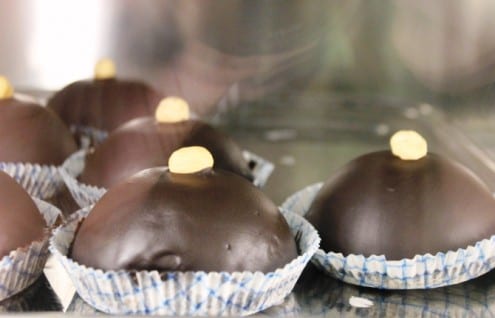 Before I leave, he insists I try their 'Tartufo'. "It's my favorite dessert", he persuades me. A dome shaped like semifreddo, with a dark chocolate crust that encloses a filling of rum pralines and chocolate mousse. "My customers call it 'The Bomb", he warns me. As I savor it, I understand why. When the crust breaks behind my teeth, the lusciousness of the whipped cream enlightened by a strong tang of alcohol, overwhelms my senses.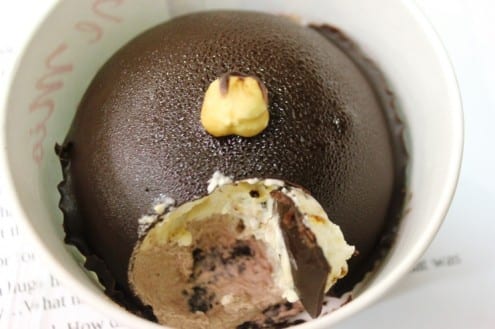 At least once a year, 'Il Procopio" receives a serious proposal to start a business abroad. "Usually they come from Americans – Gianpaolo explains – and yes, in a way this possibility picks our curiosity, but… it's something we wouldn't know how to handle. Our mentality is not business oriented, we're artisans. We just know how to make gelato, this healthy and genuine food, that's made with nutritious ingredients: whole milk, sugar and noble fats".
"Gelato is part of our lifestyle, it's rooted in the culture. Do you know how many gelatos an Italian eats in a year?" he asks. "Well, if everybody does what I did tonight, probably a lot". "Who cares? he says "you earned many moments of happiness!